Party news
New Azerbaijani Party's Central Control and Inspection Commission holds meeting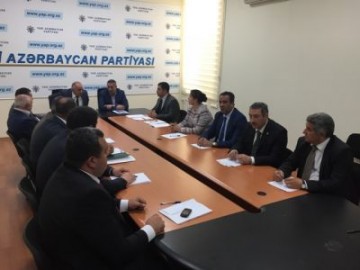 The Central Control and Inspection Commission of the New Azerbaijani Party has held its regular meeting.
Opening the meeting, chairman Mahammad Mammadov highlighted the activity of the commission. He said considerable work has been carried out in district and city branches of the party. "This work included measures to strengthen internal order, and improve financial and technical resources. Effective work has been done to improve the activity of the party`s branches to modern standards."
Mahammad Mammadov also said that necessary measures have been taken to eliminate shortcomings in the branches. "We gave necessary recommendations to several branches, and as a result these branches made radical changes in their work."
The participants defined the list of the district branches where inspections will be carried out, and representatives of the commission who will conduct the inspection.
Deputy executive secretary of the party Siyavush Novruzov highlighted the work done and further priorities.