Party news
Baku to hosts conference on Khojaly tragedy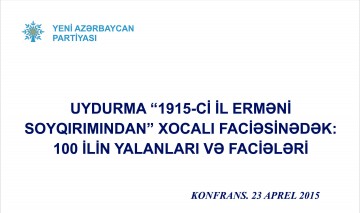 A conference titled "From the so-called Armenian genocide of 1915 till the Khojaly tragedy: Lies and tragedies of 100 years" will be held in Baku.
Co-organized by New Azerbaijan Party (YAP) and Institute of History of Azerbaijan National Academy of Sciences, the event will bring together MPs, Azerbaijani and Turkish historians.
The conference will be chaired by Deputy Prime Minister, Deputy Chairman and Executive Secretary of YAP Ali Ahmadov.