Party news
Tree planting drive organized on occasion of 91st anniversary of national leader Heydar Aliyev with initiative of Yeni Azerbaijan Party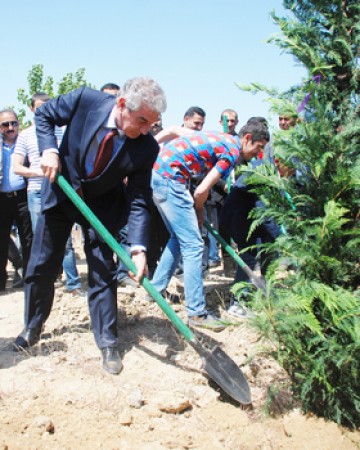 A tree planting drive was organized on occasion of 91st anniversary of national leader Heydar Aliyev with initiative of Yeni Azerbaijan Party and Narimanov Executive Authority. The drive covered the area of 15 hectares at the crossroads of the Hasan Aliyev and Ashig MollaJuma streets.
The drive involved Deputy Premier, Deputy Chairman, Executive Secretary of the New Azerbaijan Party Ali Ahmadov, MPs, general public and activists.
600 Leylandra trees brought from Italy were planted in the areas cleared from the waste.
In an interview to journalists, Ali Ahmadov said that various events are held in Azerbaijan to mark the birthday of Heydar Aliyev. One of these events is the greening and tree planting drive.
He noted that national leader Heydar Aliyev has always paid attention to protection of environment and greening.