Party news
New Azerbaijan Party organizes conference on "Heydar Aliyev and a new model of society"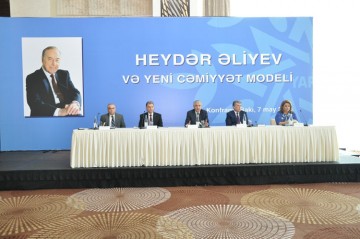 New Azerbaijan Party (YAP) has organized a conference on "Heydar Aliyev and a new model of society", APA reports.
Delivering a keynote speech, YAP deputy chairman and executive secretary Ali Ahmedov said that Azerbaijan would develop following Heydar Aliyev's policy. He said that Heydar Aliyev fought for the establishment of Azerbaijan and it is impossible to imagine it separately from the establishment of a new model of society.
He stressed that Heydar Aliyev also attached great importance to national and spiritual values: "The Azerbaijani society is a worthy member of the world community. Heydar Aliyev attached great importance to the synthesis of universal values and national and spiritual values. As a result of it a successful new model of society was established in Azerbaijan, now people live in peace. The main goal of the model is improving people's lives. This leads to Azerbaijan's success in the economic sphere as well."
ANAS president Akif Alizadeh said that Heydar Aliyev was one of the influential persons of the 20th century: "The development of science was very important in Heydar Aliyev's policy. A science policy was one of the main parts of his policy both in Soviet era and years of independence."
A. Alizadeh noted that while speaking about the scientific basis, it's necessary to note works carried out by New Azerbaijan Party for improvement of intellectual and scientific spheres: "The New Azerbaijan Party, which was founded by Heydar Aliyev, has taken joint steps with Azerbaijan and developed for more than 20 years. The ruling party's mission was to provide save influence and inheritance of the intellectuals in the society. New Azerbaijan Party has thousands of intellectuals. This allows us saying that it's a party of intellectuals".
First vice-speaker of Milli Majlis Ziyafat Asgerov noted that Heydar Aliyev considered establishment of pluralism model in the democratic development and it's not accidental that more than 50 political parties are operating in the country.
He noted that formation of democracy needs progress in economy and science.
Chairperson of the State Committee for Family, Women and Children Affairs Hijran Huseynova said Heydar Aliyev has always given priority to the role of women in the society and approached the problems of families, children sensitively.
Delivering a closing speech of the conference, the Executive Secretary of the New Azerbaijan Party Ali Ahmadov said that after these speeches, people got more information about the new model of society in Azerbaijan.