Party news
YAP humanitarian affairs commission holds scientific conferene "Place and role of Irevan and Irevan khanate in history of Azerbaijan"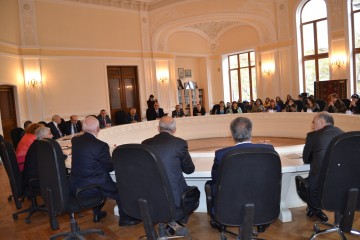 YAP humanitarian affairs commission held scientific conferene "Place and role of Irevan and Irevan khanate in history of Azerbaijan." The meeting was attended by commission members, MPs, historians, heads of regional organizations of the YAP Baku.
Opening the event, chairman of the commission, YAP Board member Yusif Humbatov said that the aim of choosing this topic is to brush up about the history and culture of Irevan and educate the community about our right to ancient lands.
Director of the History Insitute, MP Yagub Mahmudov provided information aut the history of Irevan. Historians Nazim Mustafa, Vasif Gafarov and Jabi Bahramov made presentations.