Party news
Yeni Azerbaijan Party`s Nizami regional branch holds Council meeting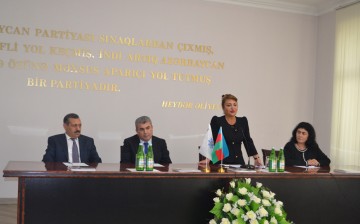 Yeni Azerbaijan Party`s Nizami regional branch held a Council meeting. Speaking at the meeting, chairman of the YAP Nizami regional branch, MP Sadagat Veliyeva said that as a result of the political work and ideological campaign, the number of first party organizations and members increased.
Deputy YAP Nizami regional branch chairman, Head of the District Executive Authority Gulnaz Israfilova, head of the administration of the YAP Nizami regional organization, Head of the YAP Youth Wing`s Office Ali Panahov, Chairman of the Women`s Council Sevda Abdullayeva, Council member Nurmammad Yariyev and others noted that YAP Nizami Organization`s Women`s Council and Youth Wing strengthened its ranks and take an active part in the socio-political life of the region.
He underlined that the role of women and youth in decision-making and government bodies is increasing.