Party news
Israeli delegation visits YAP Headquarters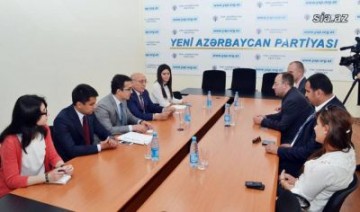 Members of the Youth Union of Israel's Beiteinu Party have visited the headquarters of the New Azerbaijan Party (YAP).
They met YAP`s Deputy Executive Secretary, MP MubarizGurbanli who highlighted the activities of the Party.
Mr. Gurbanli hailed relations between Azerbaijan and Israel in various fields, stressing the role of meetings of the heads of state in developing the bilateral ties.
Head of YAP`s International Relations Department, MP AsafHajiyev highlighted the New Azerbaijan Party`s cooperation with leading political parties of European and Asian countries.
"Azerbaijan is a bridge between Europe and Asia, and YAP attaches great importance to cooperation with Asia," he said.
Head of the Israeli delegation Rabin Kiril expressed the Israeli party`s keenness to develop relations with the New Azerbaijan Party.