Party news
Summer school project organized by YAP Youth Wing commences in Lerik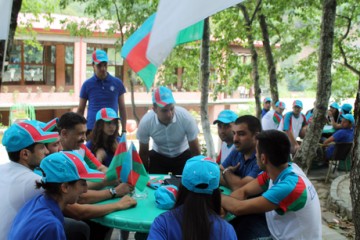 On July 31 Lerik district, "Summer School" project" organized by the Youth Union of the New Azerbaijan Party's ended.
The ceremony was attended by a member of the political council of the party and the party Karadag district chairman Aydin Huseynov, head of the party affairs department Abbasaliyev Mahir, chairman of the branch, Gambarov.
Along Baku, young people from all regions of the country were represented.
"Fundraising" (Project Design and Management) training was heldon the third day of the project for young people. Responsible person for Lerik tour Mammadbair Mammadov-moderated training gave recommendations to search for financial resources, right manage the projects.
At the closing ceremony of the "Summer School" young leaders were given diplomas and presents.