News
The time has come to solve that kind of conflicts such as Nagorno-Karabakh in light of international rules, Franco Frattini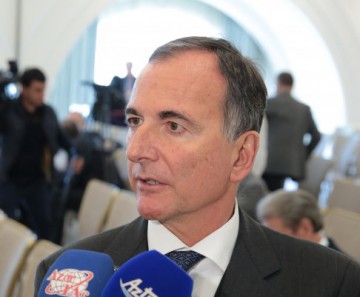 Former Minister of Foreign Affairs of Italy Franco Frattini has spoken of Azerbaijani-Italian relations across the last years.
The Former Minister said: "I think current state of relations between Italy and Azerbaijan are extremely good. We became some years ago the first bilateral economic partners of Azerbaijan also in the field of energy, of course Azerbaijan became the biggest supplier to Italy of energy and we have been making a very important interesting infrastructure together the last one Trans Adriatic Pipeline. I was very origin as Foreign Minister of the negotiations and two years ago President of Azerbaijan Mr. Ilham Aliyev decided this project belongs to Italy and this is the winner project. I am very satisfied also because the cultural relations between Italy and Azerbaijan are extremely good. Thanks also to the First Lady of Azerbaijan Mehriban Aliyeva. The first lady comes very frequently to Rome and is very involved in cultural projects between Rome and Baku and this is for us very important.
The Former Minister also spoke about the collaboration between the two countries: "This is a key area for collaboration. Italy has been always very committed of collaboration in the field of cultural affairs and issues. We have been working in the field of restoration in many countries in the world particularly in the country very rich on history like Azerbaijan. This kind of cultural preparation is promising field when we can do even more than today.
"The time has come to solve that kind of conflicts such as Nagorno-Karabakh in light of international rules. I think all the country in the world would holy respect the international rules. United Nations can have a role and Europe there is an observer mission of European Union in Nagorno-Karabakh conflict. At the end international rules will prevail.