News
Hungarian "24 Ora" newspaper issues article on Azerbaijan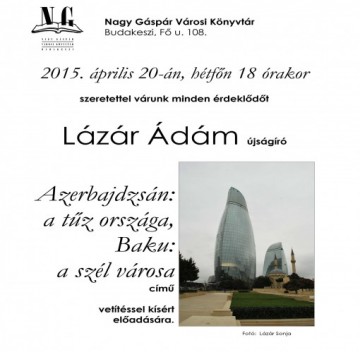 A photographer of several Hungarian newspapers Adam Lazar's impressions on Baku visit have been published in "24 Ora" (24 Hours) newspaper.
On April 20, an exhibition of his photos taken in Baku was launched in Budakeszi Library in Budapest. Adam Lazar, as well demonstrated slides on his Baku visit to library's readers.
On Aprir 21, Mr. Lazar met with the teacher and student stuff of Széchenyi school in Budakeszi. Photo-correspondent's statements and various slides about Azerbaijan aroused great interest on participants.
Mr. Lazar also shared his impressions about Azerbaijan on talk shows aired in Budapest's Promotor and Buda TV channels.
The Hungarian photographer attending the meeting in the Embassy, expressed his willingness to be among the journalists to highlight the First Europen Games to be held in Baku.