News
Belarus eager to cooperate with Azerbaijan in all avenues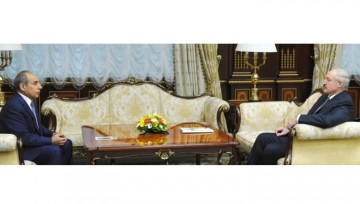 Belarus is ready to cooperate with Azerbaijan in all avenues, President of Belarus Alexander Lukashenko said as he met with First Deputy Prime Minister of Azerbaijan Yagub Eyyubov on March 10.
"We trust your country and leadership, and are ready to cooperate with you in all avenues. There are absolutely no closed topics," the Belarusian head of state stressed.
Alexander Lukashenko said that Belarus and Azerbaijan have always managed to resolve all topical issues. "Today we have met to discuss and promptly address any issues if there are any. By the way, the trade between Belarus and Azerbaijan increased last year in spite of all difficulties. The trade with Azerbaijan is very beneficial for us," the Belarusian leader said.
"We are still mulling over the prospects of branching out into certain countries. As far as Azerbaijan is concerned, we are ready to set up our companies there, are interested in your investments here and will provide absolute guarantees to you," the President of Belarus remarked. He reminded that there are joint ventures to produce Belarusian tractors, freight vehicles, elevators and other equipment in Azerbaijan. Alexander Lukashenko noted with satisfaction that the production localization in a number of industries is almost 50%. "It makes up 40% already, and it is a very good level. It means that you get the technologies that we have promised to you, and especially that I have promised to Ilham Aliyev, normal manufacturing facilities are established on the territory of Azerbaijan," the Belarusian head of state added. He emphasized that the promotion of joint products to third countries and the Caucasus region is the next step.
Alexander Lukashenko also thanked the Azerbaijani side for support and assistance. "You have always met us halfway, have always supported us. We will do the same for the fraternal nation of Azerbaijan," the President of Belarus remarked.
Yagub Eyyubov, in turn, noted that the attitude of the Belarusian head of state to the people of Azerbaijan is invaluable. "Belarus is the country which attracts everyone. As a leader you have shown that you a man of the people, that you always rely on your people and dedicated your whole life to people. If Belarus had other natural resources, I think that this country would be the first country in the world because the main thing is not what you have, but the ability to make what you need using the available tools," he said.
Yagub Eyyubov extended greetings to the Belarusian head of state from Azerbaijani President Ilham Aliyev and thanked Alexander Lukashenko for his attitude and economic, trade, political, fraternal and friendly support.