News
23rd anniversary of Khojaly genocide commemorated in Vienna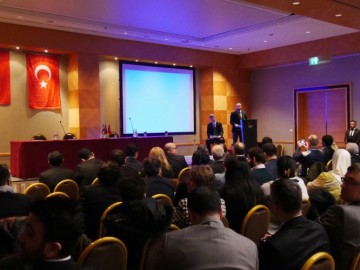 A conference dedicated to the 23rd anniversary of the Khojaly genocide was held in Vienna.
The event, initiated by Austria Azerbaijan Culture and Businessmen`s Association and some NGOs, brought together representatives of Azerbaijani and Turkish diaspora, employees of the embassies of the two countries and members of local society.
The conference started with demonstration of a documentary on the Khojaly genocide.
Head of the Association YardimGunesh spoke of the genocide, adding a lot of civilians were killed during the massacre, and stressed the attendance of holding such conferences to deliver the Khojaly truths to the world community.
Member of Azerbaijan`s MilliMajlisAzayGuliyev and Turkish MP, head of the Turkish-Azerbaijan Association Sinan Oghan made reports at the event.
Mr. Guliyev stressed the importance of all implemented activities to deliver truths about Khojaly genocide to the world community. According to Mr. Guliyev, 3 stages should be passed in order to convince international community to recognize any genocide. "In the first stage, relevant awareness campaign must be held. The second must include the recognition of the genocide by parliaments of various states. And the last stage must see legal assessment in international level," he underlined.
He also stressed the importance of the "Justice for Khojaly!" campaign in terms of delivering the truths about the Khojaly genocide to the world.