News
James Appathurai: Azerbaijan-NATO relations have reached level of strategic partnership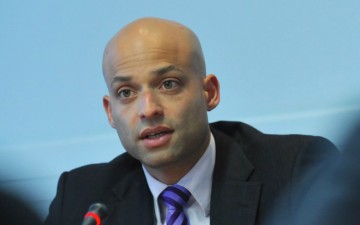 NATO Secretary General's Special Representative for the Caucasus and Central Asia James Appathurai has met with Azerbaijani journalists and NGO representatives at the NATO headquarters.
The Special Representative gave detailed information about the Azerbaijani-NATO relations. Stressing that Azerbaijan is an important partner of NATO, Appathurai thanked Azerbaijan for its contribution to peacekeeping operations carried out in Afghanistan. He also emphasized that Azerbaijan plays an important role in ensuring energy security.
"Azerbaijan continues implementing successful projects. We are pleased to do good for Azerbaijan. The visits of the Azerbaijani president, foreign minister and defense minister to the NATO headquarters raised the cooperation up to the level of strategic partnership. Defense is important to understand the strategic partnership. We will continue the cooperation in this field. Individual Partnership Action Plans (IPAP) is a very good platform. We have cooperation in the fields of energy security and cyber security. We have special projects related to cyber security", he said.
Appathurai said he often meets with head of Azerbaijan's permanent mission to NATO Khazar Ibrahim, noting the relations are developing in a highly positive way.
The Azerbaijani delegation also met with other NATO officials. The sides have widely discussed the Azerbaijan-NATO relations. During the meetings, NATO representatives were also informed both about the Ukrainian crisis and future NATO-Russia cooperation. It was generally stated that Azerbaijan remains a strategic partner to NATO and the organization intends to further expand these relations.