News
President Ilham Aliyev reviewed new office building of SOCAR in Georgia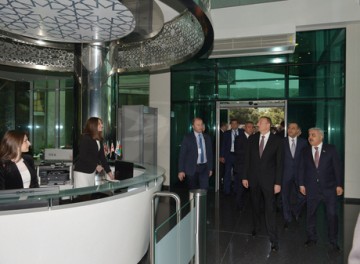 President of the Republic of Azerbaijan Ilham Aliyev has reviewed the new office building of the State Oil Company of the Republic of Azerbaijan (SOCAR) in Tbilisi.
President Ilham Aliyev was informed that the construction of the new SOCAR office building in Georgia had begun in 2009. It was put into operation in 2012. This complex is the largest SOCAR office building outside Azerbaijan. The building houses the Georgian representative office of "SOCAR Energy Georgia" LLC and other subsidiaries of the company.
The office building with a total area of 17,600 square meters is reminiscent of the Baku Maiden Tower and consists of five units. Three unit accommodate office areas, while the other two include a canteen, an underground garage and a technical section.
The SOCAR representative office in Georgia is equipped with the facilities meeting the highest international standards and attracts attention with its modern appearance. The building has won the "Public building" nomination of the International Competition "Award for Architecture-2011" held by the mayor's office of Tbilisi.