News
President Ilham Aliyev reviewed building of the Embassy of Azerbaijan in Georgia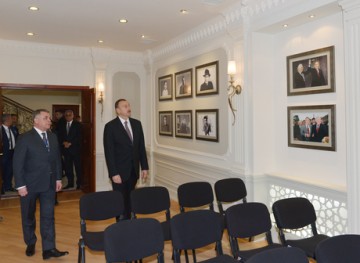 President of the Republic of Azerbaijan Ilham Aliyev has reviewed the building of the Embassy of Azerbaijan in Georgia.
The Ambassador of Azerbaijan to Georgia, Azer Huseyn, told the President that the Embassy building had been constructed on a land plot allocated by order of the President of Georgia dated 29 May 2008. All rooms in the building are fitted with the necessary equipment and are well suited for fruitful work of the Embassy personnel.
The Embassy building has the Heydar Aliyev Hall, rooms for accommodating visitors, a conference room, meeting rooms and offices. Photographs and books describing the glorious life and activities of the great leader are on display in the Heydar Aliyev Hall. It is used for conducting a variety of events dedicated to the public holidays of the Republic of Azerbaijan and other significant dates. In the lobby of the building there is a bust of great leader Heydar Aliyev.