News
'Azerbaijan has managed to assert itself in the world, in international arena as a reliable partner, reliable friend'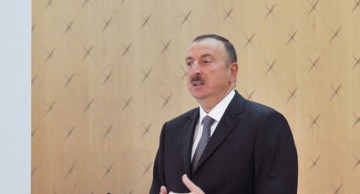 "Azerbaijan has managed to assert itself in the world, in the international arena as a reliable partner, a reliable friend. The sympathy for Azerbaijan in international organizations is obvious, and this is no coincidence," President Ilham Aliyev has said at the 5th session of the heads of Azerbaijani diplomatic services.
"Graphic evidence of that was our election to the Security Council. It was a historic event. Our election to the world's top structure, the UN Security Council, has been a tremendous diplomatic and political success for the young and independent state. In essence, it demonstrates the image of our country, it shows what a great road it has covered in a short period of time. The vast majority of the international community, 155 countries, supported our candidacy, believed in us, and I know that they have not regretted doing that. As we stated, in the two years in the UN Security Council we upheld international law and justice. We still stand for them today and will always advocate them," the President said.
The head of state noted: "So all of these factors, our economic strength and our growing reputation in the world have enabled us to carry on pursuing a principled foreign policy. I can say that this policy is approved by the international community too. The international reputation of Azerbaijan is gradually enhancing."
"In short, we have a very positive international image. There are various factors of that. I want to say again: first of all, the successful development, the principled stance of our country, the fact that we put justice and law above everything else, and at the same time, of course, the successful activity of our diplomatic services have played a very important role. So I want to congratulate the entire team of the Ministry of Foreign Affairs. Azerbaijan has a very successful foreign policy, and I am confident that in the coming years, thanks to the growing power and authority of our country, we will further strengthen our position in the international arena," President Ilham Aliyev added.