News
President Ilham Aliyev met with President of Turkmenistan Gurbanguly Berdimuhamedov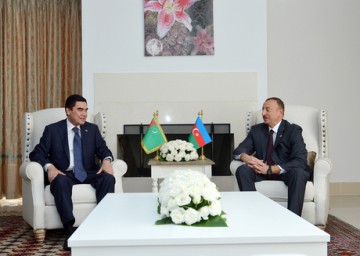 On June 4, President of the Republic of Azerbaijan Ilham Aliyev has met with President of Turkmenistan Gurbanguly Berdimuhamedov in Bodrum.
President of Turkmenistan Gurbanguly Berdimuhamedov said:
- Dear Ilham Heydar oglu, I am very pleased to see you on the sidelines of the Summit of the Heads of Turkic-speaking States on issues of cooperation. I think we will have a good opportunity to discuss our bilateral relations even though, of course, they are developing very well and, I would say, are on an upward trend. Thank you for always supporting our international initiatives. These are matters relating to energy security and the development of transport infrastructure networks. There is cooperation within the framework of authoritative international organizations, especially the United Nations, for which we are grateful to you.
The cooperation among our foreign affairs ministries is also developing very well and constructively. Consultations are conducted. At every meeting we open up new avenues for the development of our bilateral relations. I think we should continue this in the future.
Our trade and economic cooperation is also developing very well. It is encouraging that there has been a good turnover in the first half of this year. We will hold a meeting of the intergovernmental commission on economic cooperation. I think we have good backup capabilities to increase our turnover.
I remember the adoption of good policy documents on the Caspian Sea at the Baku summit.
Of course, the Caspian Sea was, is and will be a sea of good-neighborliness and peace. The fact that our experts are working on environmental issues, conservation of flora and biosphere of the Caspian Sea will, I am sure, produce good results.
Our relations in the humanitarian sphere are also developing fast. I know that you will conduct the first European games in 2015. And in 2017 we will hold the Asian Games. Here too, it is possible to consider an exchange of experience not only between athletes, but also between coaches and referees in order to have effective results. We know that this year you are going to hold an exhibition on carpet weaving. If you provide us with the opportunity, we will also take part with our carpets. I think that carpet weaving is not only about masterpieces, it is also a symbol of our nations. So we would like to participate in this exhibition.
Tomorrow we will probably talk about issues of culture at the Summit. TURKSOI has declared this year the year of our thinker, philosopher and poet Magtymguly Pyragy. We are grateful to you for holding high-level events dedicated to our poet.
Overall, I would like to say that you are doing a lot for the development of our cooperation and strengthening the bonds of friendship between our peoples. Therefore, I would like to wish you great success in your state activities and the brotherly people of Azerbaijan all blessings and prosperity.
Х Х Х
President of the Republic of Azerbaijan Ilham Aliyev said:
- Thank you, dear Gurbanguly Malikgulyyevich, for your kind words. You have touched upon some very important issues of cooperation between our countries. First of all, I would like to congratulate you on the great successes in the areas of development and creation achieved by fraternal Turkmenistan under your leadership. We rejoice in your successes and hope that our cooperation based on friendship, brotherhood and neighborliness will be continued and strengthened.
We have complete convergence of views on the issues you have raised. We are committed to strengthening our political relations. Our regular meetings with you, high-level visits of foreign ministers and heads of other agencies emphasize the nature of our relationship. They are sincere, friendly and brotherly. We wish each other good and peace. We want to build up cooperation in all areas. We are also pleased that our economic trade is growing. The potential, of course, is very large. I think that in the future we will fully engage the economic sectors that are not yet involved.
Of course, we can say that issues of energy and transport security among our countries are being addressed in parallel. This is due to the fact that we assess the situation properly and see the development of our countries in the strengthening of the economy and promotion of regional cooperation.
I know that a large and modern seaport is under construction in Turkmenistan, just like in Azerbaijan. These two new ports will serve our countries and peoples. We will increase traffic through the Caspian and thereby to strengthen our economic potential.
Also we can say that the development of the energy sector also goes in parallel. This sector also provides the benefit of our peoples and serves the prosperity of our countries. I think these projects, as well as our joint efforts to ensure security in the Caspian Sea and preserve the environmental balance in the Caspian basin will contribute to the positive development of the situation. The Caspian Sea is a sea of ​​friendship and brotherhood, it is our common body of water and we, of course, cooperate like brothers. We do hope that the upcoming summit of Caspian states, which will be first after Baku, will also be very positive in terms of expanding our cooperation.
You have touched upon the cultural sphere. Of course, we cooperate and work together in this area. Our delegation was represented at the celebrations of the anniversary of great son of Turkmenistan Magtymguly Pyragy in Ashgabat. Some activities have also been carried out in Baku. The common heritage of our great sons is our wealth. We are proud of them and, of course, have to promote and introduce to our peoples the examples of high culture our countries are rich in. A modern carpet museum is expected to open in Baku soon, and after its opening we hope that Turkmenistan can demonstrate its carpets there. This is also an area that brings our peoples closer together. Our peoples have a special attitude to carpets. It is not just a decorative element or a means of comfort, it reflects the talent of our peoples, their culture. Carpets are very dear to the heart of every Turkmen and Azerbaijani.
I am very pleased that the summits of Turkic states are held regularly. We discuss important issues of cooperation. A trilateral meeting of Foreign Ministers of Turkmenistan, Azerbaijan and Turkey was also held in Baku recently. It is a new format of cooperation – also very positive and effective. Therefore, while analyzing everything we have done on a bilateral basis and in international organizations , we can see good and positive results. This inspires us to take new steps even more.
I want to congratulate you on all the successes again and wish the brotherly people of Turkmenistan prosperity and happiness.