News
US military Harrier jet crashes into California homes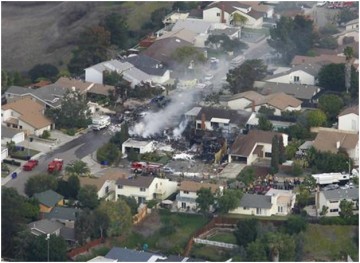 It was not immediately clear if anyone had been inside the houses hit
A US military jet has crashed into homes in the California desert, about 90 miles (144km) east of San Diego.
Television reports show at least one home on fire on a residential street in the city of Imperial, following the crash on Wednesday evening.
The pilot ejected safely, and has been transported to a local hospital.
Cpl Melissa Lee of the US Marine Corps told the BBC the AV-8B Harrier jet stationed in Yuma, Arizona, had crashed, hitting "civilian homes".
She said the search and rescue operation was continuing and there were no details yet about whether anyone on the ground was hurt.