News
US to step up military precence in Europe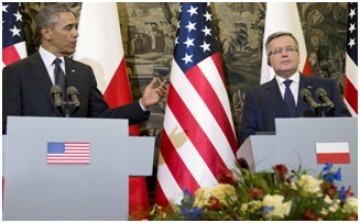 US President Barack Obama has revealed he is to start what he called a "European Reassurance Initiative". The move will boost the US military presence in Europe.
The announcement came in a joint news conference in Poland with the Polish President Bronislaw Komorowski at the start of Obama's four-day visit to Europe.
"We'll increase the number of American personnel, army and air force units, continuously rotating through ally countries in Central and Eastern Europe. And we will be stepping up our partnership with friends like Ukraine, Moldova and Georgia as they provide for their own defence.
'I'm calling on Congress to approve up to one billion dollars to support this effort, which will be the powerful demonstration of America's unshakable commitment to our NATO allies," Obama told reporters.
Earlier on his arrival in Warsaw Obama had met US and Polish air personnel from a detachment of F-16 fighter jets.