News
Azerbaijani First Lady meets UNESCO General Conference President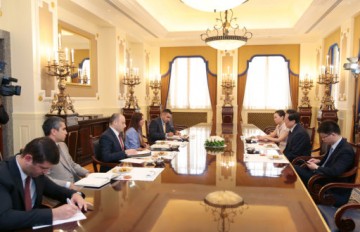 Azerbaijani First Lady, President of the Heydar Aliyev Foundation, UNESCO Goodwill Ambassador Mehriban Aliyeva has today met President of the UNESCO General Conference Hao Ping.
Mehriban Aliyeva hailed Azerbaijan's as well as the Heydar Aliyev Foundation's bilateral ties with the UNESCO.
"I am proud to have been a UNESCO Goodwill Ambassador for about 10 years," said Mehriban Aliyeva.
The Azerbaijani First lady noted the bilateral ties had been expanded year by year to reach an excellent point.
Noting the Heydar Aliyev Foundations held the UNESCO events in not only Azerbaijan, but also in other countries, Mehriban Aliyeva expressed confidence that the cooperation would continue to develop and new projects would be implemented.
UNESCO General Conference President Hao Ping thanked for high hospitality, and passed on the greetings of UNESCO Director General Irina Bokova and UNESCO Special Envoy, Chinese First Lady Peng Liyuan to Mehriban Aliyeva.
Hao Ping said the projects implemented jointly by the Heydar Aliyev Foundation and UNESCO in scientific, educational and cultural fields had greatly contributed to expanding the bilateral ties.
Hao Ping also praised the development of the Azerbaijani capital of Baku.