News
President Ilham Aliyev received the Minister of Internal Affairs of Turkey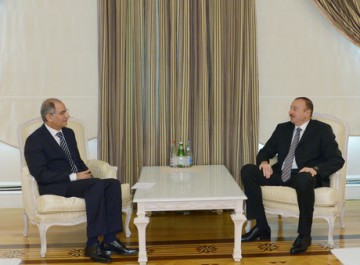 President of the Republic of Azerbaijan Ilham Aliyev has received the Minister of Internal Affairs of Turkey, Efkan Ala.
Congratulating Efkan Ala on his appointment as Minister of Internal Affairs of the Republic of Turkey, President Ilham Aliyev expressed his hope that the close cooperation between the ministries of internal affairs of the two countries would continue to expand.
Indicating that it had already become a good tradition for the heads of state and government and ministers of the two countries to pay their first foreign visits to the fraternal countries, President Ilham Aliyev highlighted the importance of Efkan Ala's first visit to Azerbaijan in the capacity of the Minister of Internal Affairs of Turkey and pointed to the presence of favourable conditions for a fruitful discussion of further cooperation opportunities.
Efkan Ala said he was delighted to come to Azerbaijan on his first foreign visit as minister. The Turkish minister expressed his gratitude to President Ilham Aliyev for the condolences expressed to the people of Turkey in the aftermath of a recent tragedy in the Soma coal mine, which resulted in heavy human loss.