News
President Ilham Aliyev received the Minister of Foreign Affairs of Turkmenistan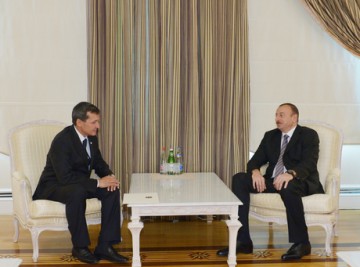 President of the Republic of Azerbaijan Ilham Aliyev has received the Minister of Foreign Affairs of Turkmenistan, Rasit Meredow.
The head of state stressed that the relations between Azerbaijan and Turkmenistan had ancient historical roots and were actively developing to this day. President Ilham Aliyev noted the importance of mutual visits at various levels for the expansion of relations between the two countries. The President expressed his confidence that bilateral relations would continue to develop and strengthen in the coming years, adding that there was a mutual interest in that. Noting that the current level of bilateral relations was reassuring, President Ilham Aliyev said that partnership between the two countries was important in terms of regional cooperation.
Touching upon the importance of the forthcoming first meeting of the Ministers of Foreign Affairs in a new format, the President expressed his hope that fruitful discussions would be held and achieved good results.
President Ilham Aliyev then voiced his confidence that such events in the trilateral format would contribute not only to regional cooperation but also to the development of bilateral ties in all fields.
Foreign Minister Rasit Meredow conveyed greetings and best wishes on behalf of the President of Turkmenistan Gurbanguly Berdymuhamedov. Rasit Meredow said that the President of his country attached great importance to the development of relations with Azerbaijan in economic, energy, cultural, humanitarian and other fields. Stressing that his visit coincided with the Republic Day, the minister passed on a letter to President Ilham Aliyev expressing the warmest congratulations of President of Turkmenistan Gurbanguly Berdymuhamedov on the occasion of this significant holiday, as well as best wishes on this great holiday which has played an important role in the life of our country and the people of Azerbaijan.
The head of state expressed his gratitude for the greetings and congratulations of President Gurbanguly Berdymuhamedov and asked the minister to convey his greetings to the President of Turkmenistan.