News
President Ilham Aliyev reviewed the 20th WorldFood Azerbaijan-2014 and the 8th AgriHort Azerbaijan-2014 international exhibitions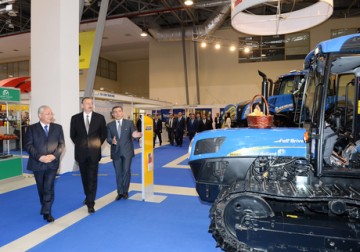 President of the Republic of Azerbaijan Ilham Aliyev has reviewed the 20th WorldFood Azerbaijan-2014 and the 8th AgriHort Azerbaijan-2014 international exhibitions at the Baku Expo Center.
Minister of Agriculture Heydar Asadov informed the President of Azerbaijan that the WorldFood Azerbaijan-2014 exhibition was part of the famous WorldFood exhibition brand which brings together the biggest food industry exhibitions of Russia, Ukraine, Kazakhstan, Uzbekistan, India, Turkey and other countries. Its 20th anniversary the exhibition celebrates with a record number of exhibitors – 242 participating companies. Representatives of 36 countries of the world have joined the exhibition for the first time. Traditionally the majority of these companies represent Europe (57 per cent) and the CIS (15 per cent).
In order to encourage the application of advanced equipment and production technologies in the regions, the WorldFood Azerbaijan and AgriHort Azerbaijan exhibitions have organized information tours for entrepreneurs from Barda, Gabala, Ganja, Lankaran, Saatli, Sabirabad, Khachmaz and other districts. In general, participants demonstrate their products in three main areas: food industry (WorldFood), beverages (WorldDrink) and food technology (WorldFoodTech). The exhibition displays meat, fish, confectionery and bakery products, as well as beverages, tea, coffee, fruits and vegetables, dairy, and oil and fat products. Also on display is equipment and ingredients for the food industry.
It was brought to the President's attention that represented in the AgriHort Azerbaijan-2014 exhibition were companies from the USA, Germany, Spain, Italy, the Netherlands, Russia, Ukraine, France and other countries. The exhibition features equipment for agriculture and poultry, as well as greenhouses, irrigation systems, animal and fish feed, seeds, fertilizer, etc.
It was noted that in comparison with last year, the exhibition area has increased 2.5 times. Another distinctive feature of this exhibition is the expansion of the exposition dedicated to agricultural machinery. Thus, the current exhibition is organized not only at the Baku Expo Center proper but also in the open area outside. Manufacturers and distributors such as "AzTekhnika", "John Deere", the Ganja Automobile Plant, "Clover", "Rostselmash" and "Gomselmash" demonstrate their products.
The President of Azerbaijan reviewed the exhibition pavilions.