News
President Ilham Aliyev reviewed the 21st Azerbaijan International Food Industry exhibition and 9th Azerbaijan International Agriculture Exhibition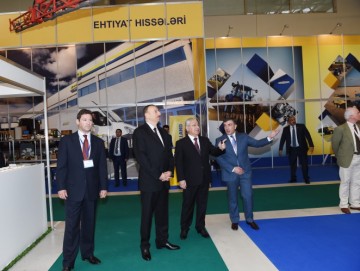 President of the Republic of Azerbaijan Ilham Aliyev has reviewed the 21st Azerbaijan International Food Industry exhibition "WorldFood Azerbaijan-2015" and 9th Azerbaijan International Agriculture Exhibition "Caspian Agro 2015" at Baku Expo Center.
The head of state was informed that each year, the WorldFood Azerbaijan exhibition involves leading manufacturers, distributors and suppliers of food products on both the Azerbaijani and international markets. This year the exhibition features over 250 companies from Belarus, Bulgaria, Germany, India, Italy, Spain, Kazakhstan, South Korea, Lithuania, Netherlands, Poland, Russia, Serbia, Turkey, Ukraine, France, the Czech Republic and other countries. Australia, Argentina, Belarus, and Lithuania present national stands. The exhibition offers fish, meat, poultry, canned food, dairy products, groceries, confectionary, refrigeration systems, a range of drinks, baking and packaging equipment and much more.
This year, exhibitors at the Caspian Agro include manufacturers and distributors of agricultural products and equipment from France, Germany, Greece, Italy, Korea, the Netherlands, Russia, Spain, the US, Turkey, Ukraine and others. For the first time, the exhibition will also be attended by companies from Sri Lanka and Jordan. The exhibition will be attended by many new companies that are taking their first steps towards harnessing Azerbaijan's agricultural market. Information tours to the Caspian Agro exhibition will be organized, as a matter of course, for entrepreneurs and farmers from various regions of Azerbaijan, with the aim of familiarizing them with the latest agricultural equipment and technology. In general, the exhibition will cover the most critical fields of agriculture and provide an opportunity to get acquainted with a number of new products. This includes equipment for poultry, greenhouse equipment, irrigation systems, equipment for the livestock sector, substrates, pet and fish food, seeds, fertilizers, among others.