Agenda
President Ilham Aliyev: We still need to do a lot in order to achieve our goal and become developed country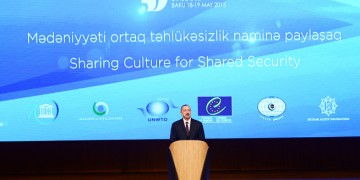 "We still need to do a lot in order to achieve our goal and become developed country though already today our economy, according to Davos Economic Forum, is number 38 with respect to global competitiveness," President Ilham Aliyev has told an official opening ceremony of the 3rd World Forum on Intercultural Dialogue titled "Sharing Culture for Shared Security".
"This was achieved not because of energy resources, but because of reforms. We also initiate different projects which bring nations together - as I already said - in energy sector, in economic sector, in the sector of political relations, and also in humanitarian area. Every year we have the international humanitarian forum in Baku. We held the world religious summit. We organize today`s forum already for the 3rd time."
"Also social issues, issues related to unemployment, poverty are solved. We see a very positive dynamics. Today Azerbaijan is a country with one of the lowest rates of poverty and unemployment in the world. It is around 5 percent. And, of course, this creates positive dynamics in the society. Combination of these factors today plays the role in increasing the international importance of Azerbaijan. Of course, we mainly concentrate on domestic issues," the head of state said.