News
Azerbaijani President`s Aide meets CEO of Press Association and Vice-President of Associated Press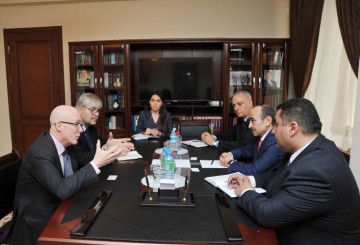 The Azerbaijani President`s Aide for Public and Political Affairs Ali Hasanov has met CEO of Press Association, President of the European Alliance of News Agencies (EANA) Clive Marshall and Vice-President of the Associated Press John Daniszewski who are visiting Baku.
Mr Hasanov provided an insight into the state of freedom of speech and information, and the government`s support for the mass media in Azerbaijan.
The Presidential Aide said the Azerbaijani government would spare no efforts to ensure "excellent" organization of the 5th News Agencies World Congress and the General Assembly of the Organization of Asia-Pacific News Agencies (OANA) due to take place in Baku in 2016.
He also highlighted preparations for the first European Games that Baku will host this June. Mr. Hasanov expressed his confidence that Associated Press and Press Association, which are co-partners of AZERTAC, the official news agency of Baku 2015, will play their role in ensuring extensive coverage of the event.
Mr Marshall and Mr Daniszewski expressed their readiness to contribute to the development of the media in Azerbaijan.
Director General of AZERTAC Aslan Aslanov was also present at the meeting.