News
Bazarstore starts sales of Baku 2015 official merchandise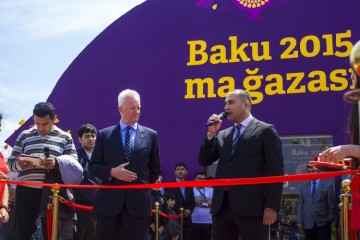 Supermarket chain Bazarstore, which is an Official Supporter of the Baku 2015 European Games, opened its flagship store on Baku Boulevard.
Bazarstore, which is also an Official Supplier of Merchandising Products for the Games, has also announced sales of Baku 2015 products in their retail network and special outlets in malls around Baku.
Mr Simon Clegg, Chief Operating Officer of Baku 2015, said: "Bazarstore is an Official Supporter of the inaugural European Games and an established part of life for millions of Azerbaijanis. The company's continuous support helps to raise excitement around Baku 2015.
"I am sure that most people in Baku will want to be associated with this amazing event, and the Bazarstore merchandise offers everyone the possibility of getting involved and enjoying being part of making history in Azerbaijan and Europe."
Baku 2015 branded items, including apparel, accessories and souvenirs, will have a unique Baku 2015 design, and will be sold at the company's sales points around the city. The official merchandise designs have been exclusively created for the Baku 2015 European Games, and will carry a hologram that verifies that the products are genuine.
A selection of the merchandising products are made in Azerbaijan, including silk scarves from the Sheki region, painted national tea glasses, backgammon sets and souvenir dolls. This national manufacture of merchandise celebrates local culture and production and will leave a genuine legacy for Azerbaijan.
Mr Afiq Safarov, Head of Business Development and Public Relations at Bazarstore said: "To be the Official Supporter of the first ever European Games is both a great honour and recognition of our prominent achievements. The Bazarstore team is ready to provide full support both as a company and as citizens of Azerbaijan to make sure Baku 2015 is a great success.
"The Baku 2015 Shop on Baku Boulevard will sell a range of official branded products. In addition to this, merchandising products will be available in all Bazarstore supermarkets, three shopping malls in Baku, the Athletes and Media Villages, as well as five Games venues."
An affordable pricing policy and a wide range of products will increase anticipation for the Games among the people of Baku and guests of the city, as well as providing official souvenirs of the inaugural European Games.