News
President Ilham Aliyev received a delegation by the Secretary of the Security Council of the Russian Federation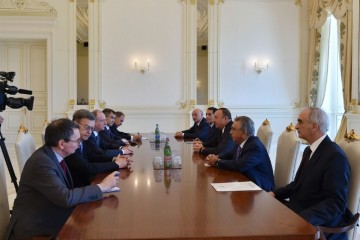 President of the Republic of Azerbaijan Ilham Aliyev has received a delegation by Secretary of the Security Council of the Russian Federation Nikolai Patrushev.
The head of state said Azerbaijani-Russian relations were successfully developing in all areas, expressing confidence that the visit of the delegation led by Secretary of the Security Council of the Russian Federation Nikolai Patrushev and meetings to be held as part of this visit would be fruitful. Touching upon successful development of the ties between the two countries` law enforcement bodies, President Ilham Aliyev underlined the importance of conducting mutual information exchange and holding joint events in terms of the strengthening of security in the region. Noting that the 70th anniversary of Victory over fascism was celebrated on a high level in Azerbaijan, the head of state emphasized the importance of these events in terms of continuation of the tradition of celebrating the Victory and building of a common opinion for maintaining historic justice.
Secretary of the Security Council Nikolai Patrushev greeted the head of state on behalf of President of the Russian Federation Vladimir Putin. Nikolai Patrushev stressed that they witnessed high-quality redevelopment and construction activities in Baku from the first hours of their visit. He said the relations between the two countries were successfully developing on all fronts. Nikolai Patrushev emphasized the importance of high-level meetings, including contacts between the Azerbaijani and Russian presidents during the celebration of the 70th anniversary of Victory over fascism in Moscow in terms of the expansion and strengthening of the bilateral ties. On the 92nd anniversary of national leader Heydar Aliyev, Nikolai Patrushev said the national leader was an outstanding statesman and political figure and underlined his exceptional role in Azerbaijan`s achieving present-day development level. Nikolai Patrushev highlighted the first European Games, expressing his confidence that the event will be held at a high level.
The parties discussed a range of issues of mutual interest.
The head of state thanked for the greetings of President Vladimir Putin, and asked Nikolai Patrushev to convey his greetings to the Russian head of state.