News
President Ilham Aliyev attended celebrative events marking the 70th anniversary of Victory in the Great Patriotic War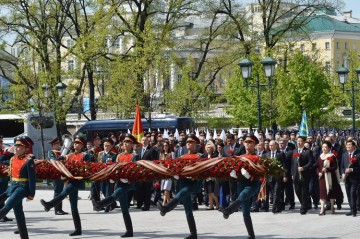 President of the Republic of Azerbaijan Ilham Aliyev and his wife Mehriban Aliyeva have attended celebrative events marking the 70th anniversary of Victory in the Great Patriotic War 1941-1945 in Moscow.
At the Kremlin, President Ilham Aliyev and his wife Mehriban Aliyeva were welcomed by President of Russia Vladimir Putin.
At Red Square the Russian President congratulated the event participants on the occasion of the 70th anniversary of the Victory. The Russian President said representatives of different nations who showed vigilance and died in this war will always be revered.
A moment of silence was observed for the people who died in the Great Patriotic War.
Then, a military parade was held. Servicemen of the Azerbaijani Armed Forces also participated in the parade. A 70-man delegation of Azerbaijani servicemen led by Major Mehdi Mahmudov marched in front of the tribunes.
State and government officials, heads of international organizations, veterans of the War watched the parade. The parade featured more than 16,000 servicemen, various units of military equipment, planes and helicopters.
About 700,000 people from Azerbaijan participated in the Great Patriotic War and 300,000 of them were killed. A total of 123 people have been awarded the highest title of Hero of the Soviet Union and 170,000 people have received various orders and medals.
Baku oil workers made an invaluable contribution to the victory. During the war, Azerbaijan produced three-fourths of oil, aviation fuel and 85-90 percent of high-quality oil in the Soviet Union.
After the military parade, on behalf of heads of state and government a wreath and flowers were laid at a tomb of the Unknown Soldier in the Alexander Garden at the Kremlin Wall.
The distinguished guests posed for photographs in front of the Kremlin.
President of the Republic of Azerbaijan Ilham Aliyev has completed his working visit to the Russian Federation.