News
Journey of Baku 2015 Flame continues south to Jalilabad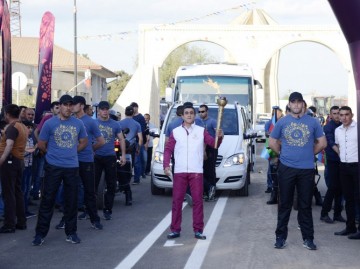 One week since its capture in Ateshgah, the flame of the inaugural European Games continued on its journey across Azerbaijan, arriving in Jalilabad. Situated some 210km south of Baku, Jalilabad, is part of Azerbaijan's biggest potato and vine-growing region.
Junior World Boxing Championship silver medallist Ismayil Huseynov was the first of 11 torchbearers including wrestling coach Jeyhun Agamaliyev, PE teacher Feyruz Guliyev, kung fu coach Agil Mustafayev, agricultural engineer Zaur Tagiyev, social activists Ziya Guliyev and Kamran Asgarzade, Greco-Roman wrestling coach Anar Istamov, USSR Sport Master Natig Rzayev, social activist Elchin Huseynov, and a representative from Baku 2015 Official Partner P&G, Elynar Huseynov, who all carried the torch in a relay covering the four-kilometre route.
The torch convoy passed the region's Chess Centre, a new centre of excellence established to encourage local participation, and on to the Heydar Aliyev Square where tonight's Festival of Fire took place.
Jeyhun Agamaliyev said: "I was very happy when I heard the Journey of the Flame was passing through the regions as it shows the importance of each region to Azerbaijan. Being a torchbearer brought new feelings for me; I am extremely happy. I will bring my students to the wrestling events and look forward to cheering on and supporting our wrestlers at Baku 2015. I also want my students to experience the atmosphere and thrill of a competitive event."
The lighting ceremony, where the flame was transferred to a special commemorative lamp which will remain lit and on display in Jalilabad until the Baku 2015 Closing Ceremony on June 28, was attended by thousands of local residents. Also making a special appearance were official Baku 2015 mascots Jeyran and Nar.
Local residents were later treated to a free evening event which included a spectacular fire show specially created for the Journey of the Flame Festivals of Fire, keeping the audience enthralled throughout a 15-minute display.