News
Mine alert adds to Balkans misery after deadly floods and landslides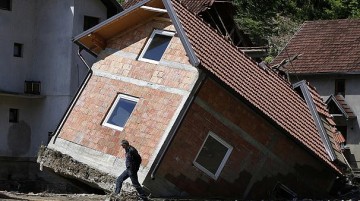 Bosnia says more than a quarter of its four million people have been affected by the worst floods to hit theBalkans in living memory.
More than 40 people have been killed across the region and with waters receding in some of the worst affected areas, the extent of the damage has become much clearer.
The heaviest rainfall since records began 120 years ago caused rivers to burst their banks and triggered hundreds of landslides.
Authorities have been struggling to cope with the scale of the disaster with more than a million homes cut off from clean water supplies.
In addition, it is feared the landslides have displaced possibly thousands of unexploded land mines planted during the country's 1992-95 war.
Serbia too has issued an urgent appeal for international help with much of the country scarred by felled trees or submerged in mud. At least 25,000 people have been evacuated but many more are believed to have fled the flooding.
Even though the crisis has eased in some areas, a new flood wave from the swollen River Sava threatens others, notably Serbia's largest power plant, the Nikola Tesla comples, 30km southwest of the capital Belgrade.