News
Status quo in Nagorno-Karabakh conflict is unacceptable, EU South Caucasus envoy says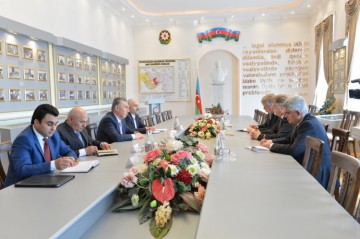 The European Union Special Representative for the South Caucasus Herbert Salber has said the status quo in the Armenia-Azerbaijan Nagorno-Karabakh conflict is not acceptable.
Mr Salber said the dispute could not be considered frozen as he met Azerbaijani Deputy Prime Minister and Chairman of the State Committee on Refugees and IDPs Ali Hasanov in Baku.
He said the conflict can flare up at any time, adding it should be solved as soon as possible.
He stressed the importance of ensuring the release of Azerbaijanis hostages Dilgam Asgarov and Shahbaz Guliyev from Armenian captivity.
Mr Salber, who visited IDPs living in student dormitories, hailed the conditions created for refugees and IDPs in Azerbaijan.
Mr. Hasanov applauded relations between Azerbaijan and the EU, saying the country was "open to the whole world". He said Azerbaijan is committed to all international conventions it is party to and obligations. The Deputy Prime Minister said the country "is playing an important role in ensuring the energy security of Europe".
He expressed regret over "the existence of double standards" in the settlement of the Armenian-Azerbaijani Nagorno-Karabakh conflict. "Unfortunately, the OSCE and other international organizations do not press on the aggressor country. The international organizations should increase their activity in this regard," he added.
Mr Hasanov expressed regret that "the presidents of Russia and France attended the events marking the 100th anniversary of the so-called Armenian genocide in Yerevan, adding "this casts doubt on fairness of their position as the co-chairs of the OSCE Minsk Group on the settlement of the dispute".
He also criticized "inactivity" of the international community towards releasing Dilgam Asgarov and Shahbaz Guliyev.