News
President Ilham Aliyev attended the opening ceremony of the 3rd Global Baku Forum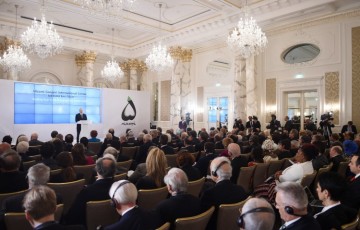 The 3rd Global Baku Forum has started in the capital of Azerbaijan.
President of the Republic of Azerbaijan Ilham Aliyev attended the opening ceremony of the forum.
Organized by the Nizami Ganjavi International Centre in partnership with the State Committee on Work with Diaspora, the forum is titled "Building Trust in the Emerging World Order".
The event was opened by director of the Bibliotheca Alexandrina, co-chair of the Nizami Ganjavi International Center Ismail Serageldin.
The head of state made a speech at the forum.
Then President of Bulgaria Rosen Plevneliev, President of Macedonia Gjorge Ivanov, and Prime Minister of Malta Joseph Muscat addressed the meeting.
The event heard addresses by German Chancellor Angela Merkel, Prime Minister of the United Kingdom David Cameron, former Secretary General of the United Nations Boutros Boutros-Ghali, and former US Secretary of State Henry Kissinger.
Then former President of the Republic of Latvia, co-chair of the Nizami Ganjavi International Center Vaira Vike-Freiberga made a speech.
The forum will feature discussions on a range of topical global issues, including ethnic and other conflicts, terror threats, development of democracy, education, environment, energy security, inter-religious dialogue, and the role of women in maintaining peace.