News
Another book on Armenian terrorism presented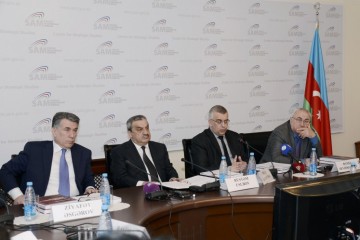 Presentation of Oleg Kuznetsov's book titled "The history of transnational Armenian terrorism in the twentieth century" was held at Azerbaijan's Center for Strategic Studies.
Director of the Center, Farhad Mammadov said that such projects are implemented in several countries against the Armenian propaganda. He said that the book will be translated into Turkish and English by the end of this year or early next year.
Author of the book Oleg Kuznetsov said that he studied the killings of Armenians from the legal point of view in his book.
First Vice-speaker of the Azerbaijani Parliament, Ziyafet Asgarov recalled plan of 'the Great Armenia from the Sea to the Sea'. He said that a national-religious conflict is out of question while speaking about the Karabakh conflict, the main purpose of Armenians was territorial occupation: "The USSR played a major role in this issue. Today, Russia is the legal successor of the USSR. Russia bears responsibility for this issue. If Nagorno-Karabakh conflict was resolved in time, today's conflicts wouldn't have occurred."