News
President Ilham Aliyev reviewed the Heydar Aliyev Sports Palace after major overhaul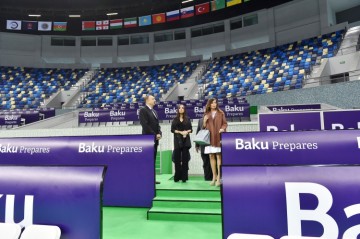 President of the Republic of Azerbaijan Ilham Aliyev and his wife, chairperson of the Baku 2015 First European Games Organizing Committee Mehriban Aliyeva, and his daughter, Vice-President of the Heydar Aliyev Foundation Leyla Aliyeva have reviewed the Heydar Aliyev Sports Palace after a major overhaul.
Youth and Sports Minister Azad Rahimov informed President Ilham Aliyev about the work carried out here.
The building, whose construction started in 1977, was commissioned in 1990. The facade of the building was renewed.
The gym was established in line with the modern standards. It has a medical point, a 40-seat meeting hall, a cafe, a 250-seat canteen, a kitchen and other additional rooms.
A room for drawing ceremonies, a doping room, a 200-seat press center, a cafe for journalists, a 40-seat conference room, a 350-seat hall for volunteers and a cafe were created in the complex.
The number of seats in the building, which covers an area of 54,800 square meters, has been increased from 7587 to 7830. Some 126 VIP seats and 30 seats for the disabled were installed here.
The preparation of the project involved foreign and local companies and specialists. The 222 modern projectors were also installed at the palace.