News
FM: Latvia supports peaceful resolution of Karabakh problem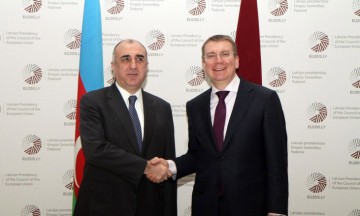 Latvian Foreign Minister Edgars Rinkevics has said his country backs efforts to find a peaceful solution to the Armenian-Azerbaijani Nagorno-Karabakh conflict.
"We support peaceful resolution of the dispute based on principles of international law, especially the territorial integrity and sovereignty," he told his Azerbaijani counterpart Elmar Mammadyarov who is on an official visit in Riga.
Mr Rinkevics also touched upon Latvian-Azerbaijani relations. He said there is a huge potential to develop economic and trade ties. The Minister expressed the Latvian government`s interest in attracting Azerbaijani investments to the country.
Minister Mammadyarov said it is important that the EU demonstrate a firm position on the Armenian-Azerbaijani conflict as in the case with other disputes. "First and foremost, the armed forces of Armenia must be withdrawn from the occupied territories of Azerbaijan as it is demanded by four resolutions of the UN Security Council."
The Azerbaijani FM also expressed hope that the Latvian Presidency of the Council of the European Union would be a success.
He hailed energy cooperation between Azerbaijan and the EU as strategic, underlining the importance of developing partnership in other strategic fields.