Agenda
Mehriban Aliyeva: First European Games will take place in an atmosphere of solidarity, unity, sound and fair competition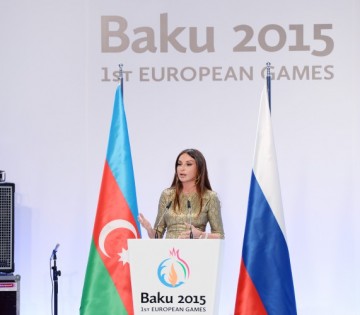 "The first European Games in Baku will take place in an atmosphere of solidarity, unity, sound and fair competition," Azerbaijani first lady, Chair of the Baku 2015 European Games Organising Committee Mehriban Aliyeva has told the presentation of the inaugural European Games in Moscow.
"As the host country we want that our guest get more information about Azerbaijan. Azerbaijan is young as an independent country, but it has historic roots, rich culture. Our aim is that all sportsmen and delegates feel themselves comfortable in Azerbaijan. For the people of Azerbaijan receiving guests runs in their blood, it is in their genes." "We tried to prepare a very rich cultural program as this is a brilliant opportunity for us to promote our country."
"We are now in the final stage of preparations. Everything we planned has already been done. These Games will set the standard for future Games," said the first lady.