News
YARAT Film Club to present cinemas by artist and filmmaker Shirin Neshat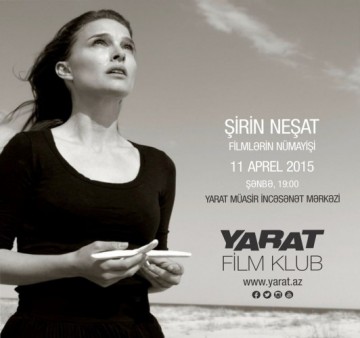 Founded as part of YARAT's strong commitment to the younger generation of students and film-makers, YARAT Film Club (YFC) aims to become an informal meeting point for the viewing and discussion of contemporary art videos and films.
Group of students, emerging film-makers and art lovers will gather to watch and chat about the works and discuss informally in the presence of the artists and directors.
All screenings will take place in the multi-functional room at the new YARAT Centre.
The first videos to be screened at YFC on 11 April are Turbulent, Rapture, Fervor and Illusions & Mirrors by an artist and filmmaker ShirinNeshat.
ShirinNeshat is an Iranian visual artist who lives in New York City. She is known primarily for her work in film, video and photography.
Since 2000, Neshat has also participated in film festivals, including the Telluride Film Festival (2000), Chicago International Film Festival (2001), San Francisco International Film Festival (2001), Locarno International Film Festival (2002), Tribeca Film Festival (2003), Sundance Film Festival (2003), and Cannes Film Festival (2008).
In 2010, Neshat was named 'Artist of the Decade' by Huffington Post critic G. Roger Denson.
In 2013, she was a member of the jury at the 63rd Berlin International Film Festival.