News
President Ilham Aliyev attended the opening of the Baku Olympic Stadium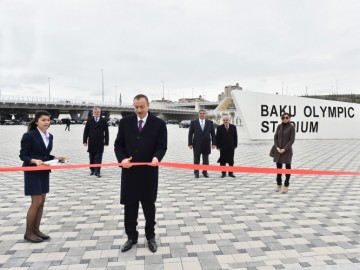 President of the Republic of Azerbaijan Ilham Aliyev and his wife, chairperson of the Baku 2015 First European Games Organizing Committee Mehriban Aliyeva have attended the opening of the Baku Olympic Stadium.
The groundbreaking ceremony for the Baku Olympic Stadium was held on June 6, 2011. It was attended by President Ilham Aliyev, FIFA President Joseph Blatter and UEFA President Michel Platini, prominent representatives of the international football community, leaders of national federations and football veterans.
A 82,000 square metres green area was laid out around the stadium. The head of state cut the ribbon symbolizing the official inauguration of the Baku Olympic Stadium.
Minister of youth and sport Azad Rahimov informed the head of state of the work done in the stadium. It was said that the six-storey stadium occupies an area of nearly 50 hectares. The pitch has four entrance gates, while the stands have 26 gates. The 68,000-seat Baku Olympic Stadium has a 3,100-car parking lot
President Ilham Aliyev and his wife Mehriban Aliyeva were informed of the work accomplished in the interior of the stadium.
The facility consists of the main and auxiliary stadiums, an auxiliary building, as well as sections for VIP, CIP, media and disabled spectators.
The right to host the inaugural European Games was awarded to the city of Baku at the 41st General Assembly of the European Olympic Committees. Azerbaijan`s bid to host the Games was supported by 38 countries. More than 6000 athletes from 49 countries will compete in 20 sports in the Games that will take place from June 12-28.