Agenda
President Ilham Aliyev: TANAP is a project of Turkish-Azerbaijani unity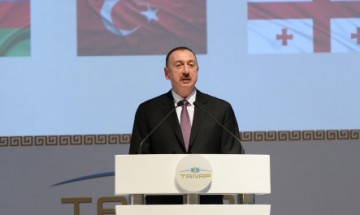 President of the Republic of Azerbaijan Ilham Aliyev has hailed TANAP as a project of Turkish-Azerbaijani unity and brotherhood.
"Next month, on 24 April, we will be celebrating the victory at the Battle of Chanaggala together. So this in itself is an indicator.Turkey is our homeland. We always feel at home in Turkey. The unity, friendship and brotherhood between us are, in fact, a factor contributing to this occasion," he told a groundbreaking ceremony of TANAP in the Turkish city of Kars.
"The "Contract of the Century" essentially opened the way to the present day for us. We were the first to invite foreign oil companies to the Caspian Sea. Prior to that, the Caspian Sea was a closed water basin. In a short period of time we embarked on the development of the "Azeri-Chirag-Gunashli" field."
"The history of the TANAP project is very short but glorious. In 2012, my dear brother RecepTayyip Erdogan and I signed the TANAP agreement in Istanbul, and over a short period of time this project has secured tremendous support on a global scale. In a short time the TANAP project is already being implemented and its foundation is being laid today.
In 2013, TAP was selected as a constituent part of the "Southern Gas Corridor". At present, hard work is under way on all constituent parts of the "Southern Gas Corridor". The "Southern Gas Corridor" consists of four parts: "Shah Deniz", the South Caucasus Pipeline, TANAP and TAP. On 20 September 2014, we laid the foundation of the "Southern Gas Corridor" in Baku. Work has already begun. I am sure that all of this work will go on schedule and be completed in a timely manner," the head of state said.