News
Heydar Aliyev Center hosts opening of Day of Slovenia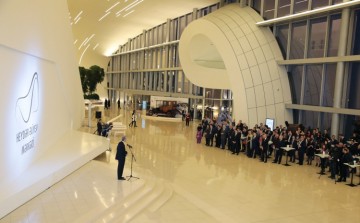 A Day of Slovenia has kicked off in Baku with a solemn ceremony at the Heydar Aliyev Center.
Opening the event, First Deputy Director of the Heydar Aliyev Center Adil Karimov stressed the importance of the Day of Slovenia which is held in Azerbaijan for the first time. Mr. Karimov said such projects play a key role in brining nations closer to each other. "Today we kick off two different and impressive events that will let us familiarize ourselves with Slovenia and its rich culture. The first one is called Two Different Worlds, an exhibition of works by a father and his son, and the other is the performance by famous band Eroika."
Mr. Karimov also highlighted the work of the Honorary Consulate of Slovenia to further strengthen relations between the two countries.
Slovenian Ambassador to Azerbaijan Milan Jazbec hailed the importance of the fact that the event brings together numerous guests.
Mr. Jazbec expressed his gratitude to Honorary Consul of Slovenia in Azerbaijan Elnur Allahverdiyev for his assistance in implementing such projects.
The Ambassador said such events testify to the development of the relations between Azerbaijan and Slovenia.
He touched on the program of the event, saying: "Tonight we will all be delighted by Slovenian musician Ljuben Dimkaroski's playing the world's oldest flute, the 65,000-year-old ancient flute kept in Slovenia's National Museum. We will also enjoy an exhibition of works by Slovenian artists Peter and Joze Ciuhas".
Following the speeches the participants viewed the Two Different Worlds exhibition. The event then continued with the performance of Eroika trio, which is comprised of Matjaz Robavs (baritone), Aljaz Farasin (tenor) and Metod Zunec (tenor). Accompanied by the Symphonic Orchestra after Niyazi, the trio also performed Muslim Magomayev's "Odlar yurdu Azərbaycan" song.