News
Roma Tre University hosts conference entitled "Caspian Sea, Euro-Atlantic "chess" game"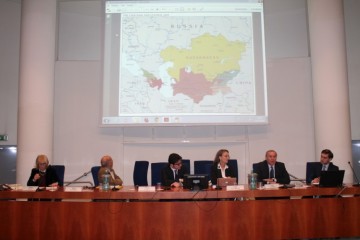 Azerbaijan`s embassy to Italy has organized a conference entitled "Caspian Sea, Euro-Atlantic "chess" game" was held at the Roma Tre University.
The conference, moderated by professor of the University Marco Valigi brought together representatives of Italian academic, state and business circles, experts and teaching staff of the University.
Addressing the event, rector of the University Mario Panizza highlighted the history, international relations of the University, and stressed the University paid huge importance to cooperation with Azerbaijan`s educational institutions.
Pro-rector of the University, professor Francesca Cantu has analyzed Azerbaijan`s achievements in a short period of time. She hailed Azerbaijani government`s attention to youth and education. The pro-rector underlined "from this point of view, the expansion of cooperation between the educational institutions of the two countries in various fields, as well as increase if student exchange is important."
Highlighting the Azerbaijan-Italy relations, head of the University`s political sciences department Francesco Guida spoke of the foreign policies of the Caspian states, adding "such conferences create ample of opportunities for studying ongoing political processes in the Caspian region."
Addressing the conference, Azerbaijan`s ambassador to the country Vagif Sadigov spoke of the geographic situations and strategic importance of the Caspian littoral states, noting "from the ancient times this region was rich of energy. Thanks to this factor the Caspian region was always on the focus of attention."
Highlighting the history of oil industry in Azerbaijan, the Ambassador noted on the beginning of the 20th century, the 51 percent of oil produced in the world belonged to Baku. The Italians were informed about the Caspian oil from traveler Marco Polo.