News
President Ilham Aliyev and President of Pakistan Mamnoon Hussain held a one-on-one meeting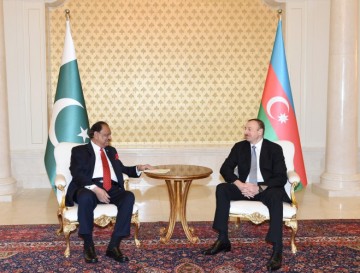 Following the official welcoming ceremony, President of the Republic of Azerbaijan Ilham Aliyev and President of the Islamic Republic of Pakistan Mamnoon Hussain have held a one-on-one meeting.
During the meeting, the sides expressed satisfaction with the successful development of bilateral relations between the countries, which were based on friendship, cooperation and strategic partnership, in the political, economic, humanitarian and other areas. The parties expressed confidence that Pakistani President Mamnoon Hussain`s official visit to Azerbaijan would contribute to the strengthening of the ties. It was noted that there were good prospects for the expansion of the cooperation between the two countries.
The sides also exchanged views over bilateral, regional and international issues.