News
Azerbaijan's Defense Minister holds meetings at Croatian Foreign Affairs Ministry and Chamber of Economy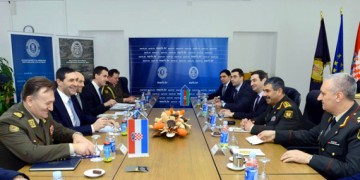 In the sidelines of official visit to the Republic of Croatia, the Azerbaijani Defense Minister, Colonel-General Zakir Hasanov has held a number of meetings.
Mr. Hasanov discussed issues of security and expansion of bilateral ties of the two countries as he met Croatian Deputy Minister of Foreign Affairs Joško Klisović, the press service of the Ministry of Defense said.
Noting that Armenia is the main threat to stability in the South Caucasus, the Azerbaijani Minister expressed the importance of solution of the Nagorno-Karabakh conflict based on international law and the principles of territorial integrity of Azerbaijan.
Mr. Hasanov as well met with the Chairman of Croatian Chamber of Economy Luka Burilovic. The sides spoke about the friendly relations between the two countries, expansion of bilateral ties, as well as discussed prospects for deepening of cooperation in the sphere of defense industry.
Following the meeting, the Croatian defense industry companies made several presentations.