News
President Ilham Aliyev received aide to the Russian President, vice-president of the Olympic Committee Igor Levitin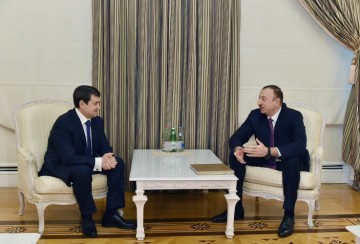 President of the Republic of Azerbaijan Ilham Aliyev has received aide to the President of the Russian Federation, vice-president of the Olympic Committee of the Russian Federation Igor Levitin.
Igor Levitin presented a memorial album dedicated to the Sochi Winter Olympic Games to the head of state. Igor Levitin stressed that Russian sportsmen were seriously preparing for the first European Games to be held in Baku, and said that nearly 300 athletes would represent Russia in the event. He expressed confidence that the first European Games would be excellently organized, and wished Azerbaijan success in the preparation process.
The head of state expressed congratulations on Russia`s achievements in the Sochi Winter Olympic Games. President Ilham Aliyev noted that despite a short period of time passed since the decision was made to organize the first European Games in Baku, a lot has been done on this front, and added that Azerbaijan would spare no efforts to ensure high-level organization of the Games. The head of state said the event was important not only for Azerbaijan, but also in terms of expanding international cooperation in the field of sport.
The sides stressed the overall successful development of the relations between the Republic of Azerbaijan and the Russian Federation, and expressed confidence that these ties would continue expanding.