News
President of Slovenian National Council: A news agency that enjoys international influence plays an important role in shaping the country`s image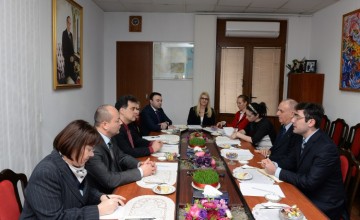 "The role of news agencies has increased in a globalized world.
A news agency that enjoys international influence plays an important role in shaping the country`s image," said President of the National Council of Slovenia Mitja Bervar in his meeting with Director General of AZERTAC Aslan Aslanov.
Mr Bervar said AZERTAC will play a significant role in promoting the world community`s awareness of Baku-2015 First European Games.
He noted that the development of relations between Azerbaijan and Slovenia in cultural, economic and political fields has positively influenced cooperation between news agencies.
"The cooperation agreement has recently been signed between AZERTAC and Slovenian STA agency," Mr Bervar added.
He said he was pleased to be present at the signing ceremony, adding the fact that the celebration of the 95th jubilee of AZERTAC was attended by world media leaders testified to the agency`s increasing image on the international scene.
Director General Aslan Aslanov thanked the President of the National Council of Slovenia for attention. Mr Aslanov said Azerbaijani-Slovenian cooperation entered a new level of development thanks to the efforts of the heads of state over the last 10 years.
The Director General hailed the Slovenian people`s respect towards Mehdi Huseynzade who showed great courage in the Second World War.
Mr Bervar noted he was aware that AZERTAC would host the 16th General Assembly of the Organization of Asia Pacific News Agencies (OANA) and the 5th News Agencies World Congress in 2016.
He described the fact that AZERTAC would chair the international media organizations in 2016-2019 as a confirmation of the agency`s strong image.
Member of Parliament of Slovenia Rudi Matjasic said the two countries shared common values. He described Mehdi Huseynzade as a hero of both Slovenia and Azerbaijan, adding a stamp in honour of Mikhaylo has recently been issued.
Honorary Consul of Slovenia in Baku Elnur Allahverdiyev highlighted the visit of President of the National Council of Slovenia. He said the two countries reached agreement on opening of direct flights from Baku to Maribor in 2016.
He added that the air communication would give a push to deepening relations between the two countries event further.