News
FM: Azerbaijan has always attached particular importance to developing relations with each Member State of the Arab League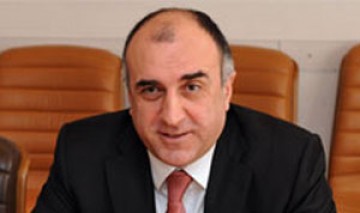 Azerbaijani FM Elmar Mammadyarov has said the country has always put particular emphasis on the development of relations with all member states of the Arab League.
Speaking at the First Session of the Arab Cooperation and Economic Forum with Central Asia and the Republic of Azerbaijan in the Saudi Arabian capital of Riyadh, Mr. Mammadyarov said: "Being closely linked with the Arab States through historical, religious and cultural bonds, the Republic of Azerbaijan has always paid particular importance to developing relations with each Member State of the Arab League, supported by strong political, economic and commercial pillars." "Friendly ties Azerbaijan enjoys with the Arab States have also paved way for long-term and meaningful cooperation under the Organization of Islamic Cooperation, the League of Arab States and Gulf Cooperation Council," he said.
"It is therefore logical that Azerbaijan, since its inception, has hailed the initiative of Arab League-Central Asia-Azerbaijan Cooperation Forum and actively participated in its advancement. It is our firm belief that this mechanism will be instrumental in furthering our political, economic and humanitarian cooperation to a qualitatively new level and fostering greater mutual understanding, respect and support."
Mr. Mammadyarov said: "Azerbaijan has always been in solidarity with the Islamic Ummah in sharing of its problems and grievances. Our support was particularly evident and helpful during Azerbaijan's membership to the United Nations Security Council in 2012-2013."
He noted: "At the initiative of Azerbaijan on October 28th 2013 under our Presidency the first ever special meeting of the United Nations Security Council and Organization of Islamic Cooperation on the topic "Strengthening partnership synergy between the UN and OIC" was convened. As an outcome of this historical meeting it was also agreed to convene such a meeting biannually under the presidency of any OIC Member State who has the seat at the UN SC as a non-permanent member."
The FM touched upon the Armenia-Azerbaijan Nagorno-Karabakh conflict, saying "Armenia continues to use force to sustain military occupation of the territories of Azerbaijan and to prevent one million Azerbaijani refugees and IDP's from returning to their homes". "No single Azerbaijani historic and cultural monument was left undamaged and no mosque and other sacred site escaped desecration both in the occupied territories, as well as in Armenia itself."
"It is a matter of yet another serious concern that Armenia expands settlement of Syrian Armenians into the occupied territories of Azerbaijan to change the demography on the ground and consolidate its occupation. Such activity is illegal under international law and must be stopped immediately."
Mr. Mammadyarov praised the Islamic countries` supporting Azerbaijan`s position on the Nagorno-Karabakh dispute.
"We reiterate our sincere gratitude to the Islamic Ummah for long standing position in condemnation of the Armenian aggression and occupation of 20% of Azerbaijan's territories with notorious ethnic cleansing on the seized lands. We are particularly grateful to Islamic Ummah for the unanimous call for immediate, unconditional and complete withdrawal of Armenian armed forces from all our occupied territories, as it is demanded by the relevant resolutions and decisions of the UN Security Council, OIC and other international organizations."
"We believe that this position with regards to Armenia-Azerbaijan conflict will also be reflected in the attitude of all brotherly Arab League Member States," the Azerbaijani FM added.