News
President Ilham Aliyev met with President of the former Yugoslav Republic of Macedonia Gorge Ivanov in Munich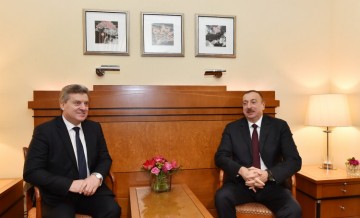 President of the Republic of Azerbaijan Ilham Aliyev has met withPresident of the former Yugoslav Republic of Macedonia Gorge Ivanov in Munich.
It was stressed that the relations between the two countries were successfully developing in a variety of areas. The parties said there were good prospects for expanding the cooperation in energy, customs, culture, sports and other fields. The importance of the first European Games to take place in Baku this June was underlined.
The sides expressed their confidence that the bilateral ties would further develop.