News
President Ilham Aliyev met with French Defence Minister Jean-Yves Le Drian in Munich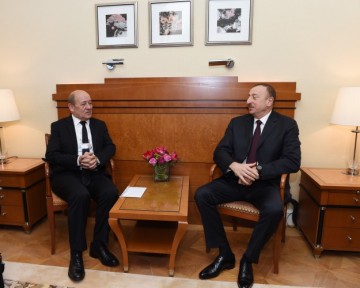 President of the Republic of Azerbaijan Ilham Aliyev has met with Defence Minister of the French Republic Jean-Yves Le Drian in Munich.
The sides expressed satisfaction with the development of the bilateral relations between Azerbaijan and France. It was noted that the two countries` ties had been intensively developing in recent years. The parties emphasized the importance of the launch of Azerbaijan`s second satellite last year as a result of this cooperation.
It was stressed that reciprocal visits by the Azerbaijani and French presidents gave impetus to developing the relations between the two countries and defining new areas of cooperation. The sides underlined the expansion of the bilateral ties in the field of defence industry.