News
President Ilham Aliyev met with Serbian Prime Minister Aleksandar Vucic in Munich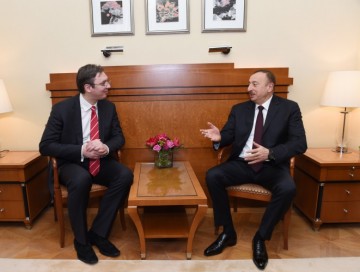 President of the Republic of Azerbaijan Ilham Aliyev has met with Prime Minister of the Republic of Serbia Aleksandar Vucic in Munich.
The successful development of the bilateral relations between the two countries in political, economic, humanitarian and other fields was stressed at the meeting. The parties emphasized the significance of reciprocal visits and meetings, and hailed the contribution of friendship between Azerbaijani and Serbian peoples to the development of the two countries` ties. Azerbaijan`s successful participation in Serbia`s economy, particularly in the road construction sector, was underlined. The sides said that this meeting created good opportunities for discussing the prospects for expanding the cooperation in various fields.
Azerbaijan`s actively investing in other countries was emphasized during the meeting. It was noted that the Serbian side was interested in the expansion of Azerbaijani companies` participation in various areas of Serbia`s economy.
The parties stressed the possibility of exploring prospects for cooperation in the field of energy, and expressed their confidence that the ties between the two countries would further broaden.